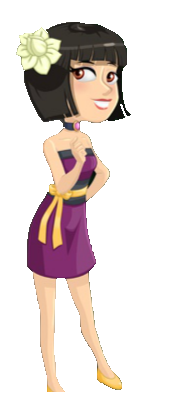 Madeline
is a French chef in ChefVille and also is the "mascot" of ChefVille.
She is the first character to welcome the player (or in her point of view, the 'new chef') and show the player the basic (of the game) and then you get to open your new restaurant after naming it (this is optional and you can change your restaurant's name anytime). Madeline will be also your first neighbor in the game (however, she does not count as a neighbor for most of the future goals given by other NPCs).
She and Chef Bello along with her friend, Ginger will give you goals shortly after you have done the "tutorial goals" and level up to lvl 2.
Much later in the game; Chef Madeline and Colby will team up together (after the player unlocked the Salad Station) with her goals needing some of Colby's inventions like the Pink Mixer, Pasta Maker, etc.
It is unknown whether or not Chef Madeline also has Asian in her.
When visiting her restaurant, Hometown Diner, Madeline is shown wearing heavy-like make-up and blue colored eyes instead of brown colored eyes. It is unknown if this is a glitch or an earlier version of her.